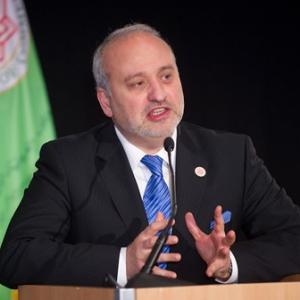 Dipl.-Ing. Mouddar Khouja
Austro-Arab Chamber of Commerce
Dipl.-Ing. Mouddar KHOUJA
Secretary General – Austro-Arab Chamber of Commerce
Mouddar Khouja, born in 1966 in Syria, is the elected Secretary General of the Austro-Arab Chamber of Commerce since 2009.
Prior to this position, he held various high-level management positions at Tel IT Telecom, Cicso Professional Services, One Connect and Siemens Austria and was Managing Director and Shareholder of Baraka Financial Products, an enterprise specialised in Islamic Banking.
In addition to his professional performance, he is a well-known and respected invitee and speaker at official conferences, delegations and expert hearings on topics of Migration, Integration, and Tolerance.
Mr. Khouja received his Master's degree in "Computer Science" at the Technical University of Vienna, Austria.
Selected activities:
• Overall Management of International Conferences and Forums on various topics:
 Dual Apprenticeship and Vocational Training System
Energy, Renewable Energy
Water
Transport
Food & Agro Industry
Health Care
Tourism
• Speaker & chair at various international economic forums and panel discussions:   Arab Chambers; UNIDO; ministries etc.
• Speaker at several expert hearings in the Austrian Parliament
• General Coordinator of Pan-European Conference with involvement of EU-Presidency, Austrian Ministry for European and International Affairs and Austrian Municipalities
• Participant /part of delegation in various state visits of Austrian Federal President Dr. Heinz Fischer to Arab countries
• Management and Coordination of media & press events
• Author and editor of press comments
• Programme manager of several conferences in Central and Eastern Europe
• Participant of various conferences of the Arab Thought Forum, representing the European Youth with Arab Origin
• Member of Austrian OSCE Delegation to the "Tolerance Implementation Meeting- 12-13 June, 2006 Almaty, Kazakhastan"
• Speaker at the Transatlantic Dialogue on Islam & Integration: Strategies to Counter Radicalization; June 28-29, 2007 Washington, DC / USA
• Programme management and coordinator of several visits for Arab ministers in Austria