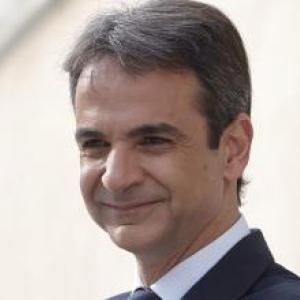 President, New Democracy Party
Kyriakos Mitsotakis obtained his bachelor degree in Social Studies, summa cum laude, from Harvard University in 1990. During his studies at Harvard he received the Hoopes and Tocqueville prizes and earned an MA in International Relations from Stanford University and an MBA from Harvard Business School.Kyriakos worked in London as a financial analyst with Chase Investment Bank and as a consultant with McKinsey and Company. In 1997 he joined Alpha Ventures in Greece, as a senior investment officer.  In 1999 Kyriakos joined the National Bank of Greece as a chief executive officer of NBG Venture Capital. In January 2003 he was nominated by the World Economic Forum as a Global Leader of Tomorrow. 
Kyriakos was elected to parliament with New Democracy in 2004, 2007, 2009, 2012 and 2015. Until June 2012, Kyriakos was the shadow minister for the environment and climate change for New Democracy. Between 2007-2009 he served as the chairman of the environment committee of the Hellenic Parliament. Kyriakos served as minister of administrative reform and e-governance from June 2013 until January 2015. From February until November 2015, he was the first in order parliamentary representative of New Democracy in Parliament.